Written By: Louis-Audrey Zenezini
So you may have read the title and thought one of two things. Option A: OMG! Finally some tasty gluten free recipes perfect for the holidays? This sounds too good to be true. Or, you may have thought Option B: Ew… gluten free? That's a definite no from me. Why would someone deprive themselves of the good things in life?
What you may not know is that celiac disease, an immune reaction to eating gluten, affects 3 million people in the United States today, and as many as 18 million may have gluten intolerance. All of the recipes below have been certified as gluten free and given a taste test stamp of approval. Without further ado, enjoy!
Sweet
Gluten Free Peanut Butter Blossoms
These chewy, super peanut buttery cookies are. to. die. for. The dark chocolate kiss in the middle perfectly complements the nutty taste of the cookie, and the best part? These cookies can be whipped up in no time with very simple ingredients. They are completely gluten free, but additionally, can be turned vegan by swapping the butter for coconut oil and the eggs for flax eggs.
Recipe: https://glutenfreeonashoestring.com/gluten-free-peanut-butter-blossom-cookies/
Pumpkin Bread
Typically gluten free muffins and breads can be really dry or overly sweet, the key is to add a fruit, vegetable or puree to keep it moist. The pumpkin puree keeps the bread moist and the pumpkin pie spice makes this bread taste like thanksgiving! this recipe was found online, but slightly modified; the original recipe however, is vegan, so if you're vegan, give it a try!
Ingredients:
1 15 OZ. can of pumpkin puree
2 eggs
1 teaspoon of vanilla
1 cup of sugar
1/4 cup of vegetable oil or coconut oil
2 cups of gluten free flour
1/2 cup of almond flour
2 teaspoons of pumpkin pie spice (cinnamon,cloves,nutmeg,ginger)
1 teaspoon of baking soda
1/4 teaspoon of salt
Directions:
Preheat oven to 375. Mix dry ingredients together and set aside. Whisk all wet ingredients together, add in dry and mix until no flour can be seen. Pour into bread pan and cook for about 60 min.
Original recipe: https://beamingbaker.com/one-bowl-gluten-free-vegan-pumpkin-bread-v-gf-df/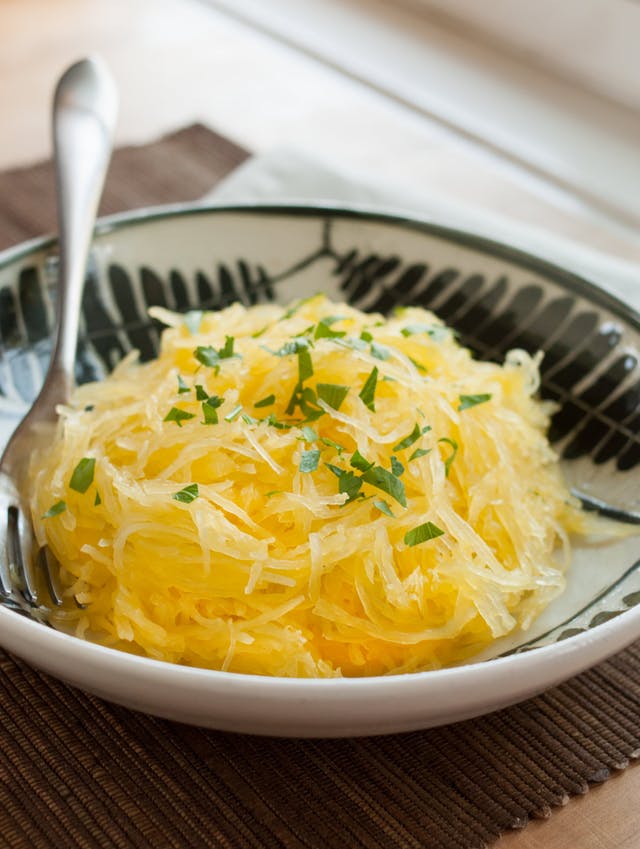 Savory
Roasted Spaghetti Squash
While a whole squash may look intimidating to cook, it's actually very simple, requires little prep time and is delicious! Try to make a homemade bolognese and top the spaghetti squash with it to make for a full meal.
Ingredients:
1 Spaghetti Squash
2 medium cloves of garlic
Olive oil
Parsley
Salt
Pepper
Directions:
Often spaghetti squash can be too hard to cut without cooking first. Pop the whole squash on a pan into a 400 degree oven for thirty to forty minutes, or until you can cut it in half. Once cut in half, use a spoon to scoop out all the seeds from the inside. Finely mince you garlic and sprinkle a clove into each half. Drizzle olive oil, and add parsley, salt and pepper to taste. Return it to the oven for another thirty minutes until soft. Use a fork to turn your squash into spaghetti and it's ready!
Chicken Chickpea Stew
This stew is packed full of protein and veggies, and is so good on its own or served over brown rice. Pop everything in a crockpot and it cooks on its own. The portions are rather large so they last several days and are perfect to keep you warm as these Autumn days continue to get chillier.
Ingredients:
4 skinless chicken thighs
½ an onion, peeled and diced
2 carrots, peeled and sliced into rounds
3-4 garlic cloves, minced
1 cup chicken broth
2 tbsp tomato paste
½ can (14 oz) diced tomatoes
1 can (14 oz) chickpeas, drained and rinsed
1 tsp parsley
1 tsp paprika
Salt and pepper
Directions:
Whisk chicken broth and tomato paste together until everything is combined in crockpot. Toss chicken in parsley, paprika and salt and pepper. Add carrots, chickpeas, onion, garlic and chicken to the crockpot on high for three to four hours, then use fork to pull chicken apart. And that's it!